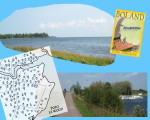 BOLAND, THE BEGINNING, is a story where reality and fantasy meet.
The novel's setting is largely the village of Port Elwood, which is based on the real village of Port Elgin, on the coast of New Brunswick. This tiny community intrigued me from the first time I visited it. It felt like a place where stories had happened, and could happen again.
Especially a story like Boland.
The people of Port Elwood's fantasy counterpart, Boland, are committed to peace and mental development. Wishful thinking, on my part, that such a place might exist. But this is fiction, so my wishful thinking can bear fruit.
Enter Boland, and Port Elwood, both inspired by Port Elgin.